15-Yard Roll Off Dumpsters
Cost-Efficient Junk Containment
Why do you need this container?
The All-Purpose 15-Yard Dumpster
Our 15-yard dumpster is one of our most popular dumpster sizes.
This heavy-duty container is no stranger to both commercial and residential job sites. It's great for jobs of all sizes including do-it-yourself home junk removal.
If you're in need of a 30-yard dumpster, we also offer a flat rate combo deal for two 15-yard dumpsters that can be delivered separately.
15-Yard Dumpster Dimensions:
Width: 8 ft. 3 in.
Length: 13 ft. 4 in.
Height: 5 ft. 9 in.
Rent a 15-yard dumpster for $420.00
includes up to 10 days use.
Suggested Projects for the 15-Yard Dumpster
The 15-yard dumpster gives contractors and the do-it-yourself-types tons of flexibility during mid-sized projects. It can contain the equivalent of 7-8 truck beds of junk and debris.
This 15-yard dumpster is perfect for hauling large debris during full garage cleanouts, kitchen remodels and even small home additions.
Serving the entire OKC Metro
Call Us To Schedule Service Today!
15-Yard Dumpster Features
This 15-yard dumpster was designed similarly to the 10-yard container. It's the same length and width as it's little brother, but has added height to hold more junk! This makes it easier to fit the 15-yard dumpster into tight spaces.
Our containers feature a gate on one end that can be opened to walk or wheel junk right into it.
It's still short enough so that junk can be easily thrown over the top and into the bin.
Oklahoma Owned and Operated
We treat our customers like our neighbors.
We offer the best customer service in Oklahoma City with same-day or next-day delivery. You can simply text us for dumpster drop-offs and pick-ups.
We will even send you pictures of where we placed the dumpster to make sure it's right where you want it!
Most importantly, we keep our dumpsters sparkling clean to brighten up your job site. Give Junk Boss a call today for your 15-yard dumpster query!
The perfect all-purpose dumpster size.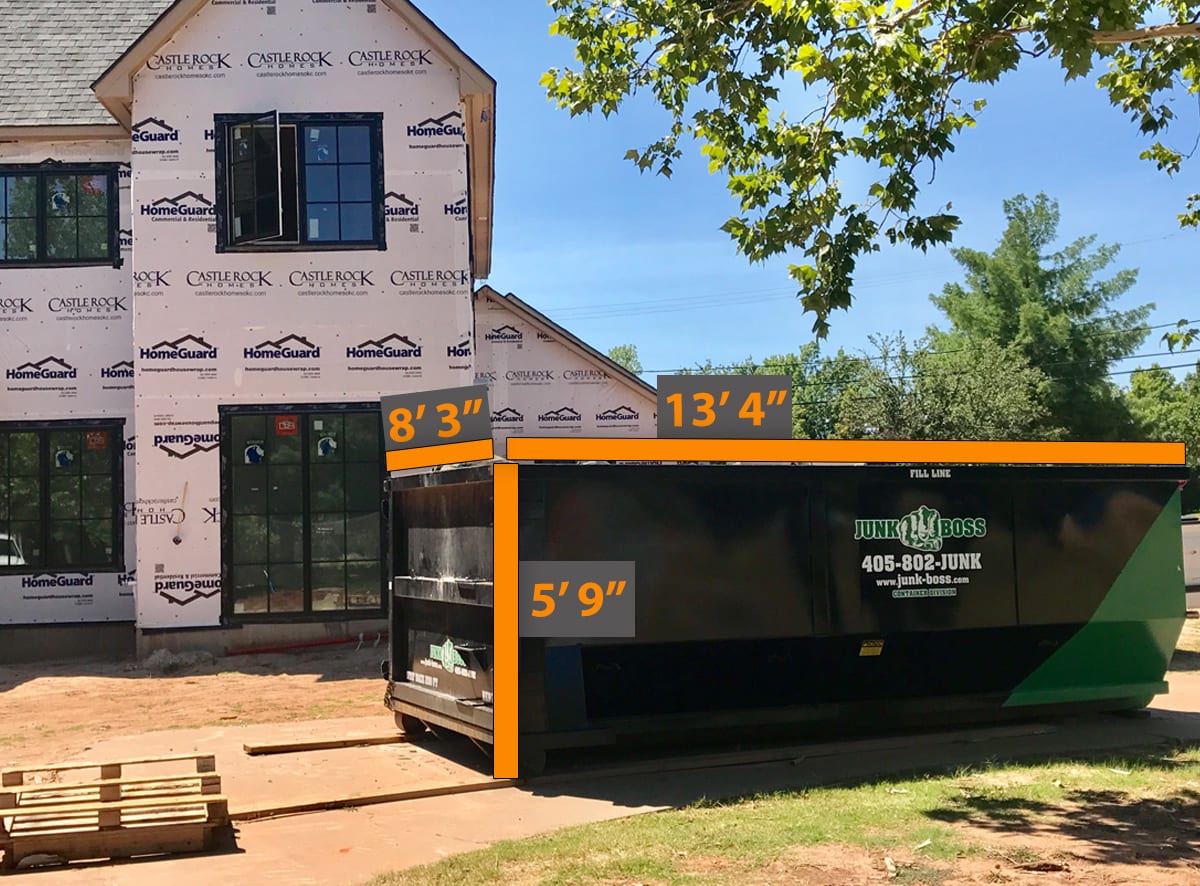 Boards under the dumpster protect your property.